VOTER INFORMATION, VOTER AWARENESS AND VOTER EDUCATION
Elections require citizens to participate in the electoral process and to make an informed decision when voting. Elections imply decision-making, and democracy implies actively participating. Decision-making and active participation are based on information, skills, values and practices, which have to be provided to the entire voter population. Voter information, awareness and education campaigns provide voters with the knowledge, skills and values to do this.

There is, however, a common misunderstanding regarding use of the terms voter information, voter awareness and voter education. While these concepts are inter-related and complementary (and can occasionally overlap), they need to be distinct when designing specific activities and programs to avoid confusion and ambiguities. There are crucial differences between these concepts and their application: (a) voter information enables eligible citizens to vote, including basic facts about the elections and voting; (b) voter awareness addresses voters' motivation and preparedness to participate fully in elections and aims to increase trust in the electoral process. This includes the secrecy of the ballot, the value of each vote, freedom of choice and the impact of voting on public accountability; (c) voter education refers to a longer-term pedagogical process involving more complex information, including why the electoral process is important and necessary, the link between human rights and voting rights, the relationship between elections and democracy and the conditions necessary for democratic elections. Such concepts involve explanation, not just a statement of facts.

The distinction between these concepts is not merely "academic": they are essential when deciding on concrete actions and programs, because they help determine the scope of the programs, clarify the contents of messages, define the timing and duration of the efforts, identify appropriate strategies and, not least, to determine who should be involved in efforts to promote them.

It is often assumed that the responsibility for informing, motivating and educating voters is the sole responsibility of the electoral authorities. In this debate, only one thing is the subject of almost complete agreement: development of voter information messages is the exclusive responsibility of the electoral authorities. What is required is the production and delivery of official messages, bearing the stamp of the authorities. The extent to which an electoral authority moves beyond basic voter information into the realm of awareness and education is determined by their legal mandate and the operational capacity and available resources to become involved and, therefore, the situation differs in each country. In some countries, the electoral management body (EMB) is mandated to conduct not only voter awareness activities but also voter education; in others the EMBs are limited to provide voter information within very restricted guidelines. In many countries, voter education is an integral part of broader civic education programs, with or without the active participation of the electoral authorities.

As mentioned, in Vanuatu the electoral law mandates the VEO to provide information to voters and the public in general. While developing the contents of voter information is the responsibility of the EC and VEO, they can be supported in the transmission of those messages by various stakeholders, always under the oversight of the electoral authorities to avoid misinformation and misunderstandings.

The EC and VEO recognize that voter information and awareness should target all possible electors, and many of its activities are conceived in this light. Nevertheless, they are also aware that certain groups of population, which have traditionally been marginalized voters, require specific information and awareness efforts, in order to promote inclusiveness in the electoral process. In order to be credible, an election is required to include all various population groups as equitable partners. Active participation of all segments of society in political processes is an indispensable aspect of a strong democracy. In this context, the EC and VEO make special information and awareness efforts targeting women, youth and people with disabilities.
WOMEN
International treaties and good practice make clear that women should enjoy equal rights to men, including in the elections. Though there are no clear signs of disaffection to the electoral processes among women as voters in Vanuatu, there is a clear need for specific outreach targeting women and young women. Many cultural obstacles need still to be overcome to ensure equal participation of women as voters, not just in the numbers but ensuring the secrecy of the vote and enhancing women rights to a personal electoral choice. Additionally, the low number of elected women is a potential cause of disaffection. A gender sensitive approach is essential to promote an inclusive participation of women in elections, not just as voters, but also as candidates, as members of civil society and as members of the electoral administration. The VEO works closely with Department of Women's Affairs to develop gender sensitive training materials and also to work together on voter awareness / information programs before elections, not least in regards to the municipal elections because of the seats reserved for women in those elections.
YOUTH
The political participation of youth in electoral processes is substantially lower than for other age groups. That is a global trend and Vanuatu is no exception, as shown by the 2016 mini census data on registered voters by age groups. Therefore, there is a special need to outreach to the young citizens, first to register and get a voter card, then to involve them as voters. Ni-Vanuatu youth represents the future of the country! Therefore, the VEO sees the importance of involving youth in the elections, involving youths in the voter registration process to introduce them to the electoral process while at the same time encourage them to participate in elections as voters, candidates and members of civil society.
IMPROVING ELECTORAL INCLUSIVE PRACTICES FOR PEOPLE WITH DISABILITY (PWD)
The Vanuatu Electoral Office (VEO) has been targeting inclusion in transparent electoral practices through supporting the new National Identification Cards, up-dating and validating of electoral rolls, revision of regulations of laws related to decentralisation of elections administration to support stronger voter turn-out in the provinces. Across the Pacific, the electoral authority in Vanuatu is being recognised for its innovative practices designed to encourage people to register and vote - new brochures and awareness booklets, a dedicated website with all the latest electoral information, use of social media, SMS messaging, radio and talk-back shows, television interviews, training for candidates, training of polling staff, videos and information workshops have been emphasising the importance of everyone's vote.
In the past "everyone" may not have included People With a Disability (PWD). So the Electoral Office is undertaking another innovation – strategies for encouraging people with a disability to participate in democratic decision making through the power of their vote. With an updated central civil register and new National Statistics data to be released in October 2021, derived from the 2020 National Census, there will soon be better information available of how many, where, with what disability.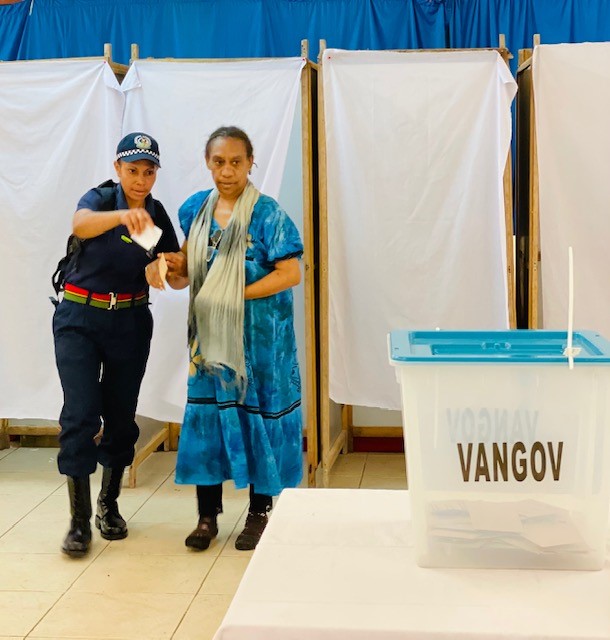 The Electoral Office is moving to pre-position the VEO team to be ready to undertake initiatives to improve PWD voter statistics. Accordingly, discussions within the disability sector have resulted in a VEO PWD Action Plan in which the following activities have been identified for action:
"Nothing about us, without us" is the mantra of the NGO disability sector in Vanuatu. The various organisations must be kept informed and involved;
Prepare and deliver a Sensitisation Workshop. Staff of the Vanuatu Electoral Office & Civil Registration and Vital Statistics Department (CRVS) should be based on WSG principles;
Is the VEO HQ and Provincial Offices accessible? Look around. What can be done?
Include NSDP target Society 4.5.1 Proportion of Government Offices with ramp access or disability friendly rating (includes hearing & sight impaired disabilities) in VEO and VEC Business Plan;
Polling booths may not be wheelchair accessible, nor accessible toilets near;
Repeat PWD training led by Vanuatu Skills Partnership for VEO team at annual MoIA and VEO Business Plan Workshop;
Ask Vanuatu National Statistics Office (VNSO) to create a short PowerPoint on the PWD data from the National Census once released in October 2021;
Utilise already established PWD NGO networks for training and to disseminate materials & information.
Voter Information made PWD accessible through:
Radio
Social Media
TV (for Luganville & Port Vila) for sighted people
Not too much text in brochures
Pictographic Posters are very good - needs a lot of pictures – minimal words
Utilise the networks of established disability NGOs for information dissemination i.e. VPDA's Disabled People Organisations (DPOs) are in in every province and could be utilised for election inclusion workshops and materials distribution.